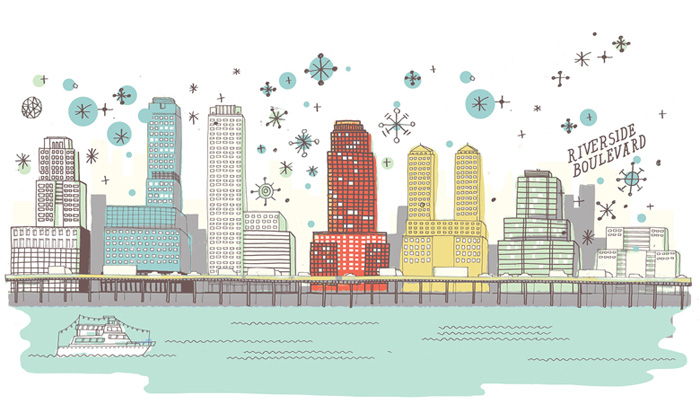 – An attempt to draw all the buildings in New York by James Gulliver Hancock, an illustrator originally from Australia currently based in Brooklyn, New York.
– "I almost shipped my pants laughing at this."
– If Game Of Thrones took place entirely on Facebook
– Cat Wearing a Shark Costume Chases a Duckling While Riding a Roomba Vacuum
– 60 thoughts about turning 60:
23. Sixty observations is suddenly feeling like quite a lot, to be honest.
– 25 Photos You Need To Really Look At To Understand
– This is just so beautiful:
After learning my flight was detained 4 hours,
 I heard the announcement:
 if anyone in the vicinity of gate 4-A understands any Arabic,
 please come to the gate immediately.
– The History of Typography – Animated Short: A paper-letter animation about the history of fonts and typography. 291 Paper Letters. 2,454 Photographs. 140 hours of work.
– Bastille covers Bruno Mars with a little bit of The xx thrown in.
– Why is this so hilarious: compilation of animals trying to stay awake. You're an animal for crying out loud. It's not like you're in a meeting or have to pay bills. JUST GO TO SLEEP ALREADY.
– The complete guide to sleeping at work:
Australian researchers writing in Nature Journal compared the performances of people who'd not slept for 28 hours with those with a blood alcohol level of 0.10% (the US drink-driving limit is 0.08%) and found the impairment on performance to be nearly identical.
– If it weren't for the awful music, I could watch this all day: Follow me on Twitter
– Illustrator Kevin McShane draws himself as a character from 100 different cartoons
– Cartoonists demand action to end gun violence
– I'm still here: back online after a year without the internet:
By late 2012, I'd learned how to make a new style of wrong choices off the internet. I abandoned my positive offline habits, and discovered new offline vices. Instead of taking boredom and lack of stimulation and turning them into learning and creativity, I turned toward passive consumption and social retreat.
– A scientific look at the pain of childbirth vs the pain of getting kicked in the balls.
A few of my favorite recent tweets:
instead of "thats what she said" start incorporating "thats how my grandma died" in its place

— justin (@yogurtpyramid) April 24, 2013
"There will be snacks." – someone successfully convincing me to do anything

— Kevin Farzad (@KevinFarzad) April 30, 2013
George W. Bush Library is cool because they built a physical manifestation of an oxymoron.

— Tyler Schmall (@tylerschmall) April 25, 2013
My niece said "I donated my hair to Locks of Love, uncle Jeff!" and I was like "oh so you got a haircut congratulations"

— Jeffrey Brian (@sweet_toof) April 22, 2013
Too bad fans of sprees can only choose shopping or killing

— donni (@donni) April 28, 2013
If I could only take ONE book to the moon, I'd make sure that book had a vagina.

— rob delaney (@robdelaney) April 29, 2013
Bedtime story? My sister and I broke into a church on the private school campus where we were attending Fat Camp and drank the holy wine.

— Jeply Surly (@JennyPentland) April 29, 2013
errrybody in the club forgettin the V in everybody. There is a V in the word everybody.

— Christopher Sweet (@kingofalltweets) April 11, 2013
Wow, "Parmesan air"? Calm down, brunch menu.

— Nic Cage Match (@NicCageMatch) April 14, 2013
We've got 4 kids, so my wife's safe word is OVULATING.

— Babies Daddy (@dshack8) April 15, 2013