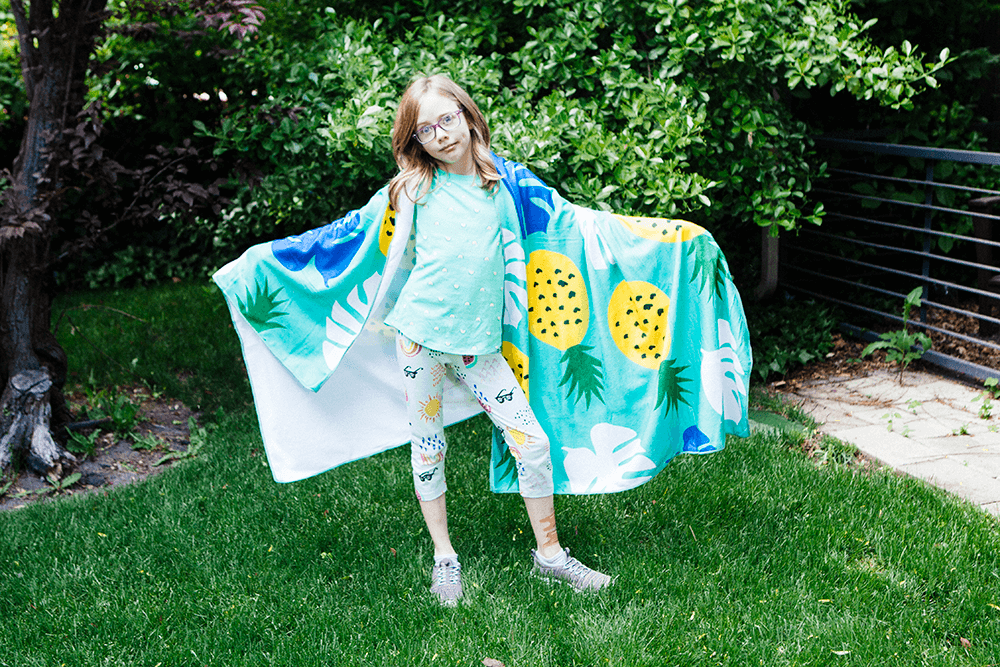 For those of you who know Marlo in real life, you know there are some pretty distinct constants about her personality. For instance, she has a really hard time being alone and the feeling of boredom to her is not unlike being burned alive—the Bible would describe her reaction as "the gnashing and wailing of teeth". She can hear a song only once and hum along to every single note the second time I play it in the car on the way to school. She'd happily fart the alphabet in front of the Duchess of Sussex if ever given the opportunity. And one cannot bring any sort of blanket or coat or soft item used to cover things up within her line of sight if one hopes to retain that item in their possession. You brought a towel into my house? Hope it wasn't an heirloom! Cuz that kid will be sleeping with it tonight along with 50 assorted blankets, sheets, pillow coverings and curtains that she's stuffed into her jowls.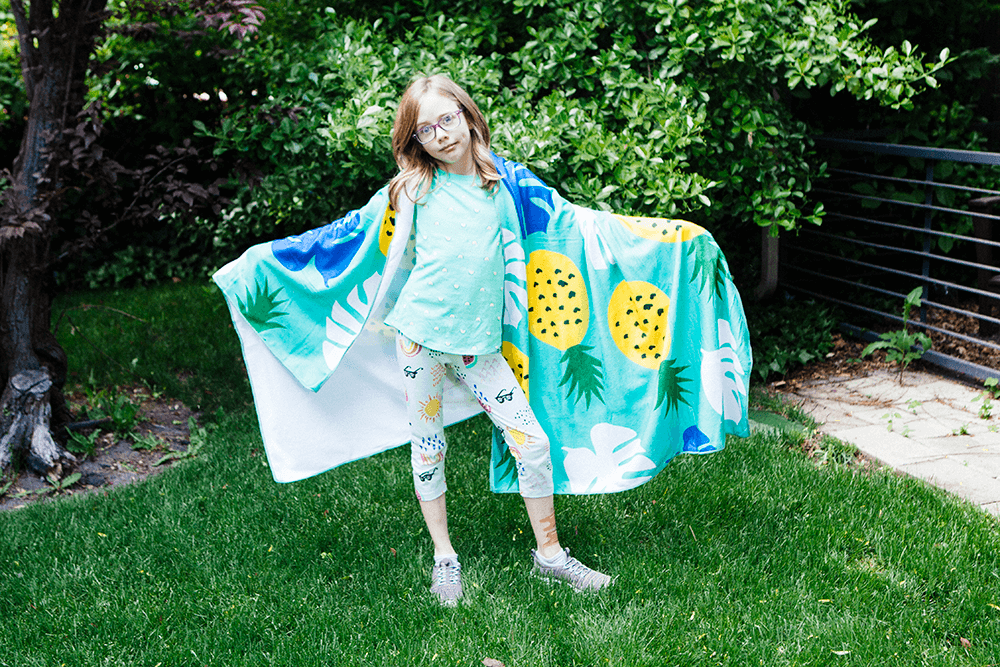 This is the Summer & Rose Beach Towel that came in the FabFitFun Summer Box that I opened over the weekend. When I woke her up for school this morning I found all three of her identical stuffed puppies wrapped inside it like metamorphosing butterflies inside a cocoon right beside her in bed. I gently stroked her head, and when she opened her eyes I leaned down and whispered, "Your puppies are gonna suffocate to death."
And yes, once again, I'm bringing you a post in partnership with FabFitFun (The Summer box is here! The Summer box is here!). They are offering dooce readers $10 of your first box, just use coupon code DOOCE10 at fabfitfun.com. You have to act fast because each season's box tends to sell out. It retails for $49.99 but always has a value over $200.
This box for me was all about the face and couldn't have come at a better time, although if you're ever in a pinch and wondering what would be a good gift to give me (DO NOT GET ME A GIFT, DO YOU UNDERSTAND? I REPEAT. There is no more awkward gift receiver in the world than MOI), a ring dish of any kind is the safest bet possible. I have these little dishes all over my house to collect jewelry, hair bands, spare change, and fortune cookie fortunes that I always read and end by adding, "… in bed… with Tom Hardy."
Pier 1 Imports Marble Ring Dish
FOREO LUNA fofo face brush
This alone retails for $135, and since Leta has four dance performances this week requiring more stage makeup than any soap star actress ever wore in a crying scene I'm thinking of letting her borrow it. Which brings us to a very timely surprise…
Tarte Tarteist PRO Glow Highlight & Contour Palette
When I applied this to her cheekbones on Saturday afternoon for the group photos for her dance class she asked what it would do to her face. And when I showed her the cover and pointed to the word GLOW she said in a deadpan voice, "Like, in the dark?" Well, AS IT WOULD TURN OUT. I'm not very familiar with contouring makeup given my very minimalist makeup regimen, and just a little bit of this goes a realllllly long way on the pale skin that Leta and I share. I was able to tone it down a bit, but for a few minutes on Saturday afternoon you may have seen a giant ray of dewy luminescence piercing the sky from the Western United States. That was Leta's face.
COOLA Face Sport SPF 50 White Team Moisturizer
Hey. Guys. This stuff is vegan AND gluten free. That means its better than Brooklyn.
ERTH Tu y Yo Ring
You can see the ring hanging out in the Pier 1 Marble Ring dish above. It's super classic and chic and made with certified natural cultured freshwater pearls. I have no idea what that means, but I'm going to guess it means they are not vegan. Yeah. Just googled it. Mussels are used to produce these pearls. However, they are the farmed kind, not the endangered kind. But I wouldn't risk wearing this in Bushwick. NUH-UH. Or that vintage fox stole you found at a flea market market in Paris. Definitely not that.
Vasanti Brighten Up! Enzymatic Face Rejuvenator
Elemis Papaya Enzyme Peel
In my list of Mother's Day gift ideas, I featured two masks/exfoliators that I'd received in previous FabFitFun boxes. And this is why I continue to partner with these guys again and again. Those products have changed my whole face-cleaning routine, and I've never really been one to try the numerous beauty products (meaning closets and closets full) that people have sent to me over the years. I tried the papaya peel this morning and it took the edge off of some bad news that had etched itself into my the lines of my face over the weekend. You leave it on for 10 minutes while your younger daughter takes a 45-minute shower that involves standing motionless underneath the warm water in total oblivion to the world and BEING ON TIME TO ANYTHING.
This season FabFitFun is partnering with Wildlife Conservation Society to bring awareness to the amount of plastic threatening our oceans and the wildlife they sustain.
FabFitFun is offering dooce readers $10 of your first box, just use coupon code DOOCE10 at fabfitfun.com. You have to act fast because each season's box tends to sell out.
……
This post is brought to you in partnership with FabFitFun.