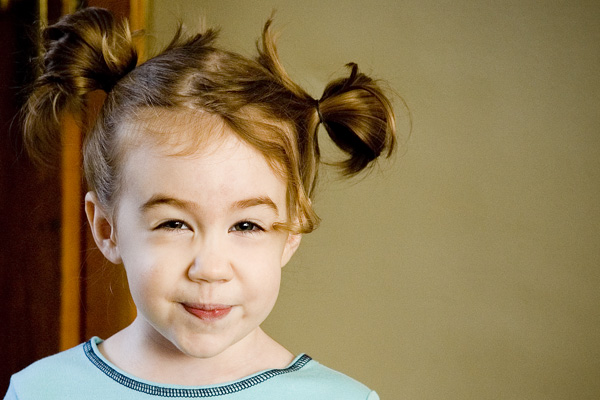 Dear Leta,
This week you turned thirty-two months old. This month you took your first plane ride, or at least the first one that counts. The other first plane ride of your life happened two years ago, but there's no possible way you will ever remember it, and no possible way I could ever forget it, seeing as how it was one of the worst days of my life, right behind the day I found out that Taco Bell had discontinued tostadas. That devastating moment happened just a few days after your father and I had moved back to Utah from California, and I remember the name of the cashier working the drive-thru window — Arvalynne* — who broke the bad news. She couldn't remember when it happened, but the decision to halt production of tostadas in Utah had come down from corporate, the decision to ruin my life forever. That sealed Utah's position as The Place Where Dreams Go To Die.
*You just try to forget that name.
While we're on the subject of Mexican food, here is where I can point to one of the few ways in which you are unmistakably my child. Your father and I have had countless debates over what would be the perfect food to take with you if you were going to be exiled on a desert island and were allowed to take only one thing. He'd take potatoes, and that makes a lot of sense because you can do all sorts of thing with potatoes, you can fry them and bake them and convert them into bombs. And everyone knows that desert islands have more deep fryers and electrical outlets than they know what to do with.
I'd take tortilla chips, and your father thinks this is irresponsible on my part. Chips can't be converted into anything else like potatoes, and he thinks I'd grow tired of them quickly and then starve to death. But I don't need them to be anything other than tortilla chips, as they are perfectly salty and crispy in their current form. Almost all Mexican food is perfect this way, just a bunch of beans and cheese and corn in different shapes with different names, and nothing warms my empty, black heart more than knowing that my daughter loves a Mexican menu as much as I do. That you regularly eat refried beans for breakfast is enough of a testament of the magnificence of the universe that I could be persuaded to believe that an ancient Jew was able to build a boat big enough to float every species of animal on Earth. Okay, maybe not.
Back to the plane ride. Right. I had been very worried about this particular flight in the days leading up to it, had expected the worst, had planned to parachute off the wing because the stress of it would leave that as my only option. Instead, I sat next to you in silence, stunned that I could occupy you with stickers and gum and cheap magnetic toys for an hour and forty-five minutes. Watching you peek over the ledge of the window and talk about being "up in the sky" was like getting to experience a flight for the first time all over again. You barely made a peep, and after we landed many of the passengers stopped to tell me that they couldn't believe how well-behaved you had been. YOU AND ME BOTH.
This was the month of running commentary, of endless sentences and moments when I thought you would never close your mouth again. You do a lot of talking, a lot of describing how things are going to play out. You are the Howard Cosell of our lives, often detailing events as if we aren't living them and are instead trying to piece together our day from your narrative. A typical morning goes like this:
Me: You awake, little one?
You: CLOTHES ON! CHANGE THE DIAPER! TAKE OFF PAJAMAS! PUT ON PANTS! AND SHIRT! AND SHOES ONS! WITH SOCKS! SOCKS ONS! OKAY?
Me: Yes, we'll put your shoes ons–
You: SHOES ONS! THEN BRUSH TEETH! WITH PASTE! AND WATER! ELMO TOOTHBRUSH! SAY AHHH! AND BRUSH HAIR! PRETTY HAIR! OKAY?
Me: Okay–
You: THEN WATCH SESS STREET! ON THE COUCH! WITH WATER! AND ICE! IN A CUP! A BIG CUP! AND SIT NEXT TO YOU! OKAY?
Me: Yes, I'll sit next to you, but–
You: AND HAVE BEANS! BROWN BEANS! IN A BOWL! GREEN BOWL! WITH A SPOON! BLUE SPOON! LETA SPOON! MAMA HAVE COFFEE! IN A CUP! BIG CUP! DADDY HAVE ORANGE CUP! PLAY WITH PUZZLES AND READ BOOKS AND GET IN THE CAR AND GO TO THE BOOK STORE! OKAY?
Me: Okay, but how about I turn on the light first?
What I find interesting is that the older you get the more your energy level begins to mirror our own, and I'm not sure whether that is because you are our child or because of all the drugs I put into your water. Your father and I are never more content than when we are relaxing on the couch reading books and magazines and websites, our heads curled up into pillows and on each other's shoulders. While we were away on vacation last week, out on the beach or walking through shops or through the park, you frequently asked "to go home and sit on the couch and read books and sit next to you." It was heartbreaking because I knew exactly how you felt, like, this is great and all, nice bridge, cool building, but where's the couch? This getting out of the house business is exhausting!
And here's the part of the newsletter where I usually fail miserably at trying to rein in the urge to get gushy about the extent to which you change my world every hour, except this month I'm not going to do that because I feel instead that I should apologize, that I owe you that more than anything else. Sometimes I worry that the most vivid memory you are going to have of me from this time is the scowl on my face. Often I am ashamed that I am not the mother I thought I was going to be.
I have become depressed again. Almost as depressed as I was two years ago when I had to check myself into the hospital, and it has everything to do with stress, recent stress that has threatened to change and devastate our lives. I have often described depression as the complete inability to cope with stress, and although I think my own depression is manageable with medication — medication that I am still taking every day — it tends to flare up in a debilitating way when I'm thrust into very stressful situations. I keep trying to claw my way up out of this, but for the last month I have found it almost impossible to make it through the day without putting my face into a pillow and screaming until I cannot sense the world around me.
You deserve better than this, better than the look of absolute desperation I carry in my eyes all day long. I should be more playful, should sing more songs, color more pictures, but I'm sometimes afraid that if I attempt any of these things you will see through it and know that I am lying. Right now I can't see the world in anything but shades of very pale gray. I had hoped that I would never find myself this low again — I would not wish this crushing emptiness on my worst enemy — but now that I am here I'm not quite sure what to do this time, except trust that you and your father will stick by me, will be here when I do feel better.
And so I apologize that my depression is a part of your life, but I also promise that I will do everything I can to fight it so that your memories of me are not painful. So that my memories of you will be in color.
Love,
Mama