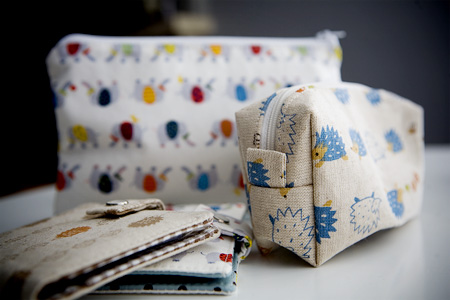 I don't remember where I first heard about seabreezestudio, but when I ordered a cardholder made with fabric covered in adorable hedgehogs, I knew that Leta would see it, love it, and then demand to sleep with it clutched underneath her arm at night. Someone once asked me about the oddest thing Leta has ever asked to sleep with, and that's kind of a hard question. It's all odd. What makes a bottle of ketchup more odd than a roll of toilet paper when thinking about it in terms of something that my daughter has snuggled with?
I did get to use the hedgehog cardholder on our recent trip to San Francisco where I collected several business cards from people who were at the small conference we were attending. But the day after we got back, Leta found it while rummaging through my purse in pursuit of a piece of gum. I didn't know this until hours later when I found all those business cards scattered underneath the couch, and when I went to pick them up she held her hand up in the air as an indication that I should stop. "Don't, Mama," she said. "Those cards are sleeping. We don't want to wake them up."
I was impressed with the quality of that cardholder so much that I went back to the seabreezestudio etsy shop and bought three more things, a mini box pouch covered in a different hedgehog fabric, and a cardholder and zipper pouch covered in an elephant fabric. I absolutely adore the fabrics used on these pouches, especially the mix between the outside and inside.
I had planned to use the new cardholder to hold wallet-sized photographs, and then use the pouches to store make-up and other miscellaneous things in my purse. And that's exactly what will happen once Leta turns her back long enough that I can extract the grocery receipts she has stuffed inside them and then covertly transfer them into hiding.