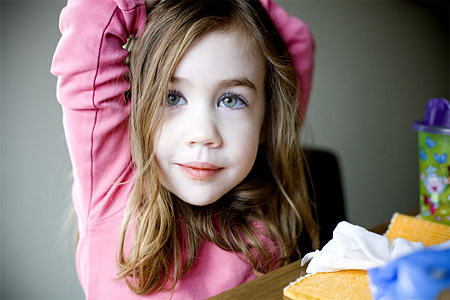 Dear Leta,
Tomorrow you turn fifty-one months old. If you are reading these in chronological order you will probably notice that the newsletter for month fifty has gone missing. Yeah, about that. Would you believe me if I told you Coco ate it? You'd have to because Coco eats everything. Just this week she ate both the arms and legs off the new Barbie doll that my mother gave you, and when I found her chewing those limbs I secretly hoped you wouldn't notice. But that's not what happened at all. You noticed immediately and were so enraged that YOU PULLED YOUR OWN HAIR. After several hours of wailing and head-butting the floor you walked up to me, put the legless and armless nub into my hands and said, "Grandmommy is going to be so mad at that dog." And you used a tone that suggested it was less of an observation and more of a warning that Coco might want to draw up a will.
But no, Coco did not eat that specific newsletter. What I could do here is come up with some elaborate excuse for why it wasn't ever written in the first place, but I know you're the type of person who doesn't want to hear all that crap. I got busy. Life sort of turned on its head at the beginning of last month and I just didn't get to it. It was the first time that has ever happened since I first started writing these letters to you at the beginning of 2004, and I apologize. I can't promise that it won't ever happen again, but I have a feeling that if you get arrested in high school for spray-painting a giant four-letter word on the wall of the cafeteria it won't be because month fifty is missing from your newsletters. It will be because your father and I didn't do a good enough job of teaching you how not to get caught. Take my advice now: blame a cheerleader.
This newsletter is going to be a little different and not just in terms of it having to make up for a lost month. A lot has happened in the last few weeks that I feel I should address publicly, and the majority of it is not amusing. Usually I like to spend these paragraphs regaling you with stories of your hysterical antics so that in the future you can read about what a uniquely challenging and funny kid you were, and maybe one day it will explain why your own child screams so much and how it's perfectly normal to daydream about dangling that kid over a pool of hungry sharks. 15 years from now you're going to read this paragraph, here where I tell you that your favorite thing to say is DONKEY BELLIES, and whenever you say knock-knock, and I say who's there, you scream DONKEY BELLIES, and then you gasp for air as the giggles get lodged in your throat, you're going to read this and then call me and go THERE'S NOTHING FUNNY ABOUT DONKEY BELLIES. And then you're going to ask me for money.
But I guess there are some people who are very uncomfortable with the fact that I and many other women are writing about our children on our websites. How dare we violate your privacy like this, how dare we endanger you like this, we obviously care more about ad revenue than what this is going to do to your adolescence. And I have been asked countless times if I am at all worried that you will totally resent me for the details I have shared here. Of course you will you resent me. I have no doubt that you will spend years of your life resenting me and being embarrassed that we have the same last name, despite the fact that I have and will spend years of my life writing love letters to you on the Internet. Despite the fact that I have declared to millions of people that you are the most amazing thing that has ever happened to my life.
You will resent me for your curfew and the fact that I will not let you leave the house in that mini-skirt. You will resent me for showing up to your school in my pajama bottoms and for raising my hand in a PTA meeting when I hadn't brushed my hair. You will text message your friends to tell them that I am the most horrible person on the planet because I'm forcing you to study for your exam in the morning. You are going to think that I cannot possibly understand what you are going through, and you will slam the door in my face.
Will you resent me for this website? Absolutely. And I have spent hours and days and months of my life considering this, weighing your resentment against the good that can come from being open and honest about what it's like to be your mother, the good for you, the good for me, and the good for other women who read what I write here and walk away feeling less alone. And I have every reason to believe that one day you will look at the thousands of pages I have written about my love for you, the thousands of pages other women have written about their own children, and you're going to be so proud that we were brave enough to do this. We are an army of educated mothers who have finally stood up and said pay attention, this is important work, this is hard, frustrating work and we're not going to sit around on our hands waiting for permission to do so. We have declared that our voices matter.
These are the stories of our lives as women and they often include you, yes. Am I endangering you by posting pictures of you? Many people think so, but then they'd have to admit that when I take you to the grocery store I am exposing your face to hundreds of strangers, people who can see what car we drove up in, the license plate number, and the direction we head home. Maybe we shouldn't ever leave the house, otherwise? STRANGERS WILL KNOW WHAT WE LOOK LIKE. Worse? They will know I prefer Tampax to the generic brand.
Am I violating your privacy? If keeping 95 percent of what goes on in your life off limits in terms of what I write on my website, then yes, I am totally invading your privacy. And what about that time I wrote about your poop, aren't you going to be mortified when your classmates read about that in sixth grade? Leta, I stopped writing about your poop many, many months ago, and chances are that all the kids you're going to know in sixth grade will have spent the first three years of their lives shitting their pants, too. Oh wait, THAT'S WHAT HUMANS DO. WHO KNEW.
Finally, I've seen it suggested in my inbox and by various critics online that what we do on our websites is egotistical and exploitative. Some even refer to it as child abuse. I know I am not alone when I say that when I sit down to update my website I do it to connect with other people, I do it to reflect on the absurdity of everyday life with the hope that the people who read it will find similarities in their own routine. I did not know that wanting to be a part of a community qualified as egotism.
Some of our websites make us money, yes, money that puts food on our table, pays for preschool and helps pay for utilities. Sometimes we even use this money to pay for more unnecessary things like computers or manicures or purple ceramic hippos, and this in particular is something people grab hold of to try and twist what we're doing into something gross and ugly. And try as they might, I will not be discouraged from continuing to document the beauty of life with my family or supporting them with an income from doing so. Leta, some people will one day try to convince you that what I've done here is some sort of sickening betrayal of your childhood, and what those people fail to recognize is that I am doing the exact opposite. This is the glorification of your childhood, and even more than that this is a community of women coming together to make each other feel less alone. You are a part of this movement, you and all of the other kids whose mothers are sitting at home right now writing tirelessly about their experiences as mothers, the love and frustration and madness of it all. And I think one day you will look at all of this and pump your fist in the air.
Love,
Mama