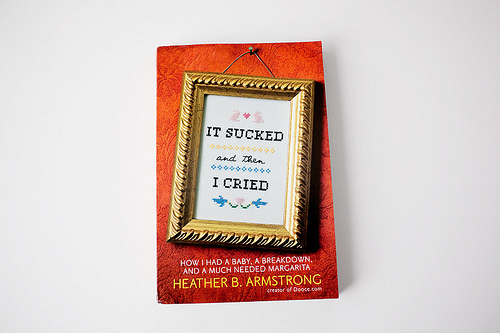 Internet, meet my baby:
This is the memoir I wrote about my pregnancy with Leta and the subsequent postpartum depression that landed me in the hospital, all wrapped up and tied together in a handy little book that you can take with you to the toilet. Your grandpa is going to love it.
It comes out on March 24th, but you can pre-order it at Amazon
. Jon and I designed and photographed the cover together using a framed cross stitch lovingly executed by Julie Jackson of Subversive Cross Stitch and Kitty Wigs fame. My personal opinion is that the only way the book could have turned out any better was if it came with a free sample of Prozac, a week's worth of babysitting, and a back rub from Clive Owen who would be required to administer it while nude. Only.
Also, I'm going on a book reading and signing tour, and since I will be over six months pregnant at the time you know it's going to be one big party. Me and my swollen ankles back at the hotel swigging prune juice and channel surfing, hoping the local CBS affiliate is airing an episode of 48 Hours Mystery that I haven't seen already.
I will have much more to say about the book and the experience I had writing it as the release date draws near, but in the meantime I wanted to publish the dates and venues for the book tour so that anyone who needs time to plan has some. A bit of fair warning, though: I take no responsibility for any emotional damage caused by the sight of my bloated face. I say that because I met one of my dear friends when I was six months pregnant with Leta, a friend who had no idea what I looked like when I was not pregnant, and when I saw her for the first time after giving birth she fell over, got back up and said, "Um, your face isn't fat! How did you do that?!" How? HOW? I survived the brutal initiation ritual into motherhood otherwise known as CROWNING and EPISIOTOMY. AND THAT WAS ONLY THE BEGINNING. She didn't have to take birth control for years.
NEW YORK, NY
Tuesday, March 24
7:00 PM EST
BARNES & NOBLE
97 Warren Street (at Greenwich)
New York, NY 10007
CHICAGO, IL
Thursday, March 26
7:30 PM CST
BORDERS
1500 16th Street, Suite D
Oak Brook, IL 60523
PORTLAND, OR
Monday, March 30
7:30 PM PST
POWELL'S
1005 W. Burnside Avenue
Portland, OR
SEATTLE, WA
Tuesday, March 31
7:00 PM PST
THIRD PLACE BOOKS
17171 Bothell Way NE
Lake Forest Park, WA 98155
SAN FRANCISCO, CA
Wednesday, April 1
7:30 PM PST
BOOKS INC.
301 Castro Street
Mountain View, CA 94041
LOS ANGELES, CA
Thursday, April 2
7:00 PM PST
BOOK SOUP
8818 Sunset Blvd
West Hollywood, CA 90069
DENVER, CO
Monday, April 6
7:30 PM MST
TATTERED COVER
9315 Dorchester Street
Highlands Ranch, CO 80129
AUSTIN, TX
Wednesday, April 8
BOOKPEOPLE
603 North Lamar
Austin, TX 78703
SALT LAKE CITY, UT
Wednesday, April 15
7:00 PM
KING'S ENGLISH BOOKSTORE
1511 South 1500 East
Salt Lake City, UT 84105