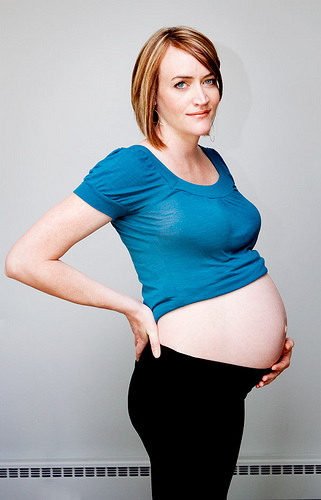 As of today there are only ten days left until my due date:
Yesterday morning I had a weekly appointment with my OBGYN where she checked to see if I was dilated. You know how that is done, right? Because I remember the first time my old doctor told me how he was going to "check me" when I was pregnant with Leta, and I was all YOU'RE GOING TO DO WHAT? And then he snapped on one of those latex gloves, held up his hand like he was flashing the peace sign, and then I had go home and tell Jon that I cheated on him with the knuckle on my doctor's index finger.
It is not a pleasant experience, not at all, no way, not even. Someone basically has to reach up inside you and casually estimate the circumference to the opening of your cervix using the tips of their fingers. And in order to garner the most accurate measurement they have to sweep around the opening like they're cleaning the mouth to a water bottle. When you're laboring in a hospital room you learn really fast that the person walking around with their index and middle fingers in the air is coming straight for your lady parts, and sometimes that person is not the same person who measured you an hour ago, and next thing you know you've violated every single standard of the BYU Honor Code.
The doctor who delivered Leta retired just a few months after she was born, so I had to find someone new to deliver this baby, and this doctor must have much tinier hands because that is the only way to explain the maneuvers she has to pull in order to get her fingers far enough inside me to reach the cervix. And I am not even kidding, at one point I thought her forefinger was going to poke out of my nose.
Jon was standing by my side during this procedure so that I could squeeze his hand when the pain became unbearable, and afterward as he taped up his broken fingers he asked if it had really been as bad as the expression on my face seemed to indicate. And I was all, Jon, that woman just reached through my vagina and scratched the underside of my brain. Whatever the expression was on my face, it WAS AN UNDERSTATEMENT.
The last three times she checked me I'd shown no progress whatsoever. My cervix hadn't dilated or softened, and I'd go home thinking I was going to be pregnant for another two months, and they do not make a powdered doughnut big enough to medicate that kind of misery. But yesterday when she pulled back her arm her face brightened with the news that I've dilated to two and half centimeters and am 50% effaced, a good indication that my body is getting ready. According to all the pregnancy shows I've been watching, though, this means absolutely nothing, and I could either go into labor tonight or waddle around for 13 days past my due date and then accidentally give birth in a toilet.