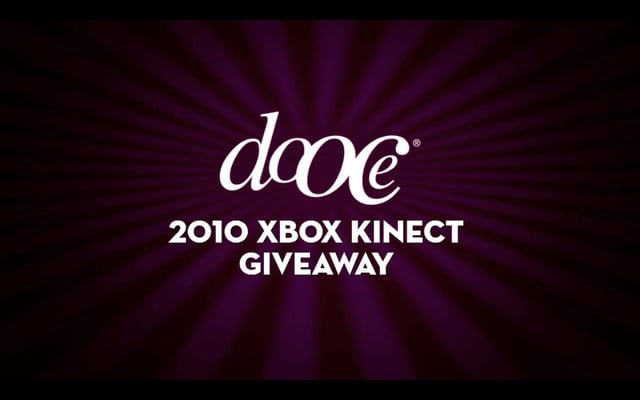 Are you ready for yet another huge holiday giveaway on this here Internet Website Blog Thing? No? Then fine, I'll just give one of these five xBox and xBox Kinect consoles to someone else.
Yes! Five! One two three four FIVE! (That's a whole five more than zero.) Five of you will get to enjoy the awesomeness that is Kinect. And no, they did not pay me to call it awesome, nor did they pay me to tell you that it has and will continue to change Leta's life. Are you ready for me to tear up? Because that's what I do every time I talk about what it's like to see this kid play games on Kinect, this kid who was late to walk and jump, this kid who hates physical activity, this kid who now jumps and runs around the living room for hours:
"Is it time to go to bed, Mom?"
"Are you still playing that boat game?"
"Yes."
"There is no such thing as bed time."
They sent us an advanced copy of Kinect to check out before giving one away, and we had no idea that Leta would love it so much, or that she would beg to play until she sweat. I think the only time Leta has ever broken a sweat was the afternoon she read all three of her library books in the hour after school and then started to panic thinking about how long it would be until she could get her hands on a new one.
I hate it when that happens, too.
Point is, nothing has ever motivated her to get up and moving like this. We're blown away. Not even that time we snuck into her room while she was sleeping and released a box of snakes.
Over the weekend we invited my sister's family over to check it out as well, and we've put together a little video of all that madness. Reasons this video is worth your time: 1) The Avon World Sales Leader makes a cameo. 2) As does my butt. 3) Jon attempts to dance. 4) Oh just trust me on this one, and by that I mean it gets really good at about 2:42.
xBox Kinect Giveaway Video from dooce on Vimeo.
Give the video a moment to load. If you have a hard time seeing the video, click here to view it.
To enter:
1. You must be 18 or over to enter.
2. You must live in the US. (Dodging rocks from Canadians. You guys, I had no control over these rules. If I did, they'd be all EVERY CANADIAN GETS ONE!)
3. You must read these rules.
4. Five commenters will be selected as winners. Please include in your comment your favorite part of the video we made above.
Note: you must be signed in to leave a comment. If you sign up for multiple user accounts and try to enter under different profiles, you will be disqualified.
5. Comments will be open until 11:59 PM on November 21, 2010.
6. Winners will be chosen randomly using Random.org.
7. Winners will be announced on November 22, 2010.
8. Prize is the following package: 1 – Xbox console, 1 – xBox Kinect Game Console, 1 – Joyride game
Once again, we're giving away five packages. Ready? GO!