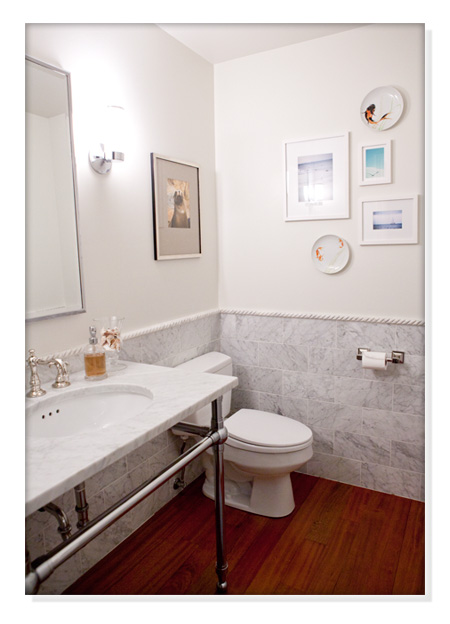 One of the main reasons we bought this house other than the giant space for the office was the renovation done on all the bathrooms. Everything in every bathroom had been demolished and rebuilt, and we didn't have to lift a finger or get divorced in the process.
Also, everything was done quite beautifully. All the tile work, the fixtures, the floors… all of it fit our taste perfectly. Do not ask me why it has taken me this long to decorate these rooms, I couldn't tell you because we did it on the cheap. Maybe blame Marlo and the destruction she wreaks in our lives daily. Because every night when Jon and I climb into bed it's like, dude, we survived another day with that kid. This has to be exactly what Basic Training feels like.
The first one I want to show you is one of two powder rooms on the main floor. I didn't want to get too much into a theme, but then I got carried away and spilled theme all over myself. This is our beach bathroom:
All of the photos on the far wall are ones we took while in Mexico, and the plates have been waiting to be hung on a wall since 2006. That's not lazy, that's just slow. Ok, that's lazy.
The picture of the seal above the toilet is one I took on our trip to San Diego in early 2008, the trip where Leta kept asking to go back to the hotel room to read books while Shamu did flips in the air.
I know someone is going to make a snide comment about the color of the soap, so let me go ahead and confirm that the liquid in this container did not come out of a human body. Or any animal's body, for that matter. I like that it matches some of the colors in the sea shells (THEME!).
This is my favorite vanity in the house, probably because I'd have sex with this marble if it were physically possible.
This would have been a perfect opportunity to add some pizzazz with some wallpaper, but Jon is only going to let me wallpaper one or two walls in the entire house. I've got major plans for those two walls, so I didn't want to waste it on the place where you go poop.
Ok. So. All of the tiles match. Pretty sure no one is going to die this time.