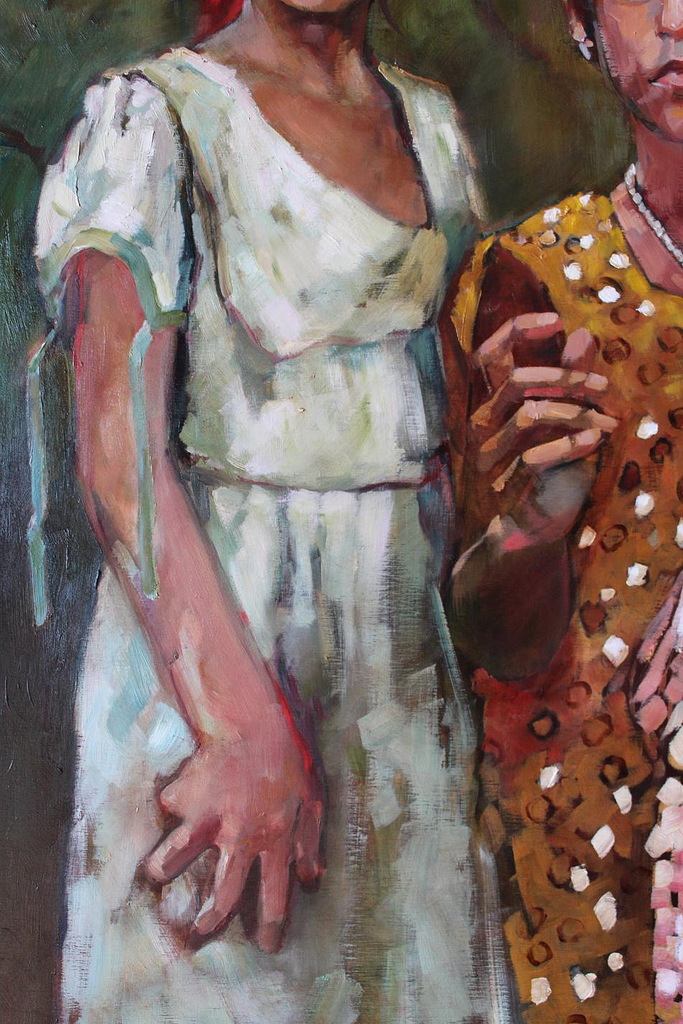 A few months ago after I returned from Bangladesh and posted some of the portraits I had taken, artist Kristina Havens came up with a brilliant idea. She had painted a portrait of Leta that I featured in my Daily Style section, and many of you commissioned work after witnessing such talent. She was inspired by some of my portraits and the work that Every Mother Counts is trying to accomplish, so she asked if she could paint a few and then auction them off to help this cause.
This is the crux of how I think massive change can happen: not all of us can get on a plane to Africa to train a midwife or build a well. Those who can just need the resources. Here is an artist wanting to make some bit of difference, and she can do so by doing what she does best. All proceeds from the auction of these paintings (minus the auction site fees) will go to the marathon fundraising effort of Every Mother Counts, an organization that can help provide the resources.
The portraits (five in all) are stunning, and you can see them all here at the auction site. I am so honored to be even marginally associated with this.
Here are just a few of the details:
We anticipated that there might be some questions, so here are the answers to a few:
How much of the winning bid goes to charity?
Almost 100%…a small percentage covers site fees.
Do I need an account to bid?
Yes – you will need a DailyPaintworks account to bid.
How do I pay for my art?
The winning bid can be paid thru Paypal.
Can someone out bid me at the last minute?
DailyPaintworks is different from Ebay – the auction does not close until five minutes has passed from the last placed bid. If you currently have the high bid and someone outbids you, you will get a notification e-mailed to you.
Do I get a tax credit for my winning bid?
No.  You get your beautiful original work of Art!
What time zone is "CDT"?
Central Daylight Time. Currently one hour behind EST.
Again, you can find them all here. The auction will close on October 20th at 6:PM CDT.
I also wanted to update you guys about the money we as a community raised plus the money Yahoo! donated to Save the Children (see here and here). We asked if they could allocate these funds specifically to the plight of women in Bangladesh, and these are the trainees who through our contributions have been selected to become midwives.
Name: Kela Rani Nath
Age: 38
Village: Solury
Post: Kakailseo
Sub district: Ajmiriganj
Name: Farzana Rahman Moniya
Age: 23
Village: Modhapara
Post: Jalsukha
Sub district: Ajmiriganj
Name: Miss Kokiya Sultana
Age: 21
Village: Noyanogor
Post: Ajmiriganj
Sub district: Ajmiriganj
Many thanks to all of your for being so awesome. This right here will save lives.