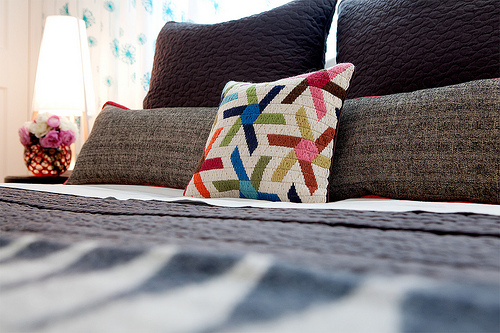 Today is the third day in a row where I feel like I am swallowing razors, but Dr. Google assures me that this isn't strep throat. I assessed all my symptoms, and what I'm experiencing is most likely just some virus and I'm not about to pay $90 to have my doctor tell me to get some rest as if that is even possible when my three-year-old is taking Cheerios out of her bowl and sticking them in her ears.
I was like, Marlo. MARLO. Please stop doing that. I haven't slept in three days because the pain of swallowing knocks me wide awake, and oh? You're not going to stop? Okay then. Fine. I'll just put you on the floor and point the dogs toward the treats on your head and now you're screaming. I totally didn't see that coming.
Is that cruel? Yeah? Because you know cave people used wolves for discipline all the time, and our species isn't extinct!
Meanwhile Leta was sitting at the table eating her breakfast and shaking her head. "At what point will she understand how awful it is to be sick?" she said. "Like, can't she see the bags under your eyes?"
How thoughtful is my eight-year-old?
……
This virus distracted me from a post I wanted to write about my friend Anna Beth who is holding design camps around the country over the next few months. She recently held her first in New Orleans with much success (you can read about it here). You might remember her as the woman I hired to help me design my living room and guest room. Which reminds me, I never really posted still photos of that room:
She, much like Cami, inspires me to take chances when it comes to the look of everything in my life, not just interior design (her portfolio is full of eye candy). Her camps cover things like the basic principles of design, wall coverings, lighting, decorating on a budget, styling, and pulling it all together. I myself will be attending one of these camps once I figure out my insane travel schedule and remove the razors from my esophagus.
Her next camp will be held in Austin from June 30-July 1. As Anna Beth would say, if you're interested, DEWITT. I mean, even Martha Stewart gave a glowing testimonial: "She makes me want to put myself back in prison until I learn something useful."