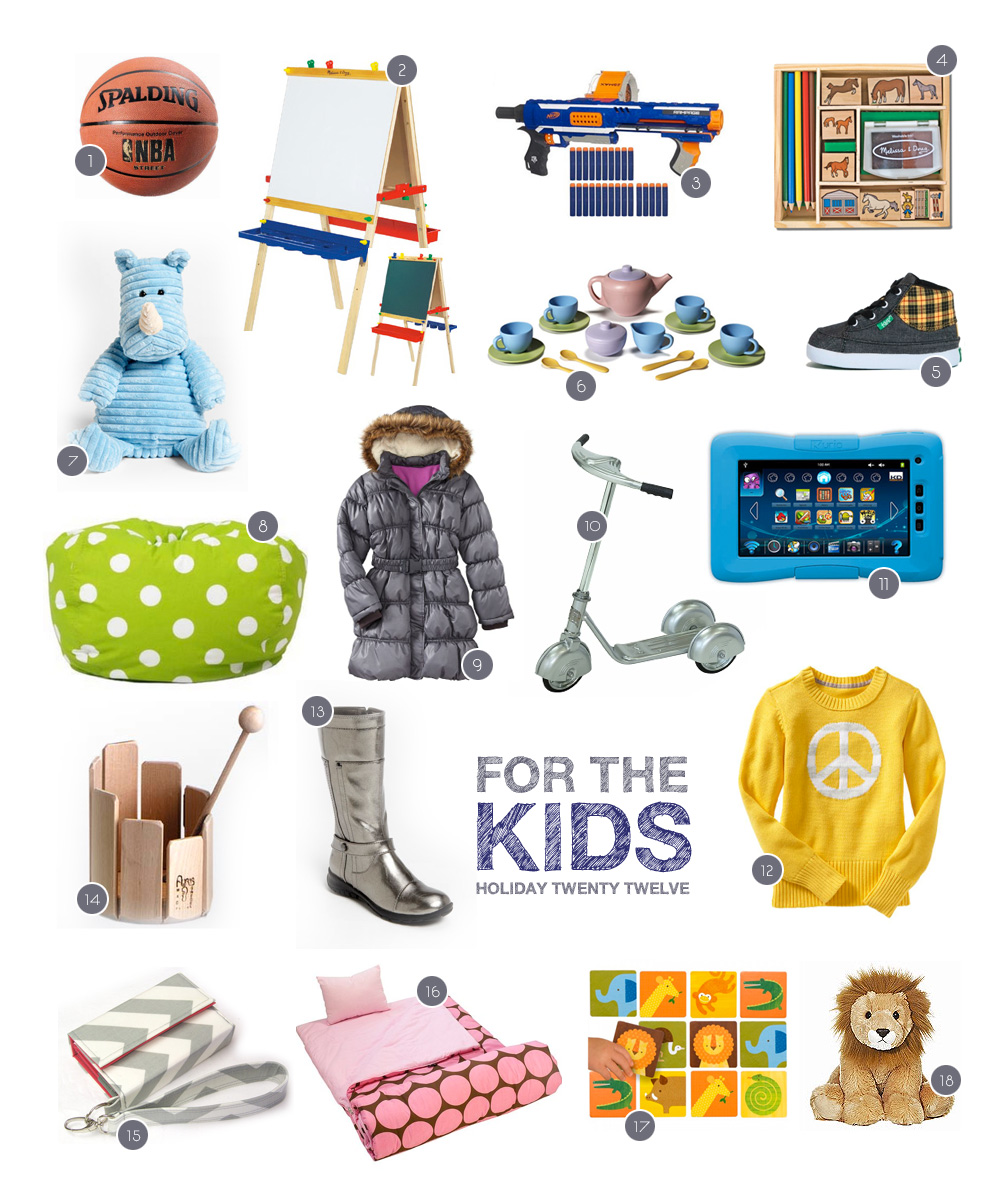 I've spent the last several months trying to thin out the collection of toys in the house that go unused, including all those tiny bits and pieces that inevitably end up camouflaged in the middle of the rug and cut a gaping hole in my foot. Polly Pockets, I AM LOOKING AT YOU.
All that work and now it's the holiday season. I am equal parts dreading it and dreading it. Did I tell you I played scrooge in the 8th grade? Of course I nailed it. Won an Emmy.
Every year I take a look at the entire haul and have to figure out where to store everything. I know you know that it gets totally ridiculous. Some years I give up and just shove everything into a closet and hope that when Marlo opens it nothing falls on her head and knocks her out. The rule this year: every gift they receive means they have to donate a toy they already have. Storage problem solved. ER visit avoided.
So. This year I want to get the kids more substantial things, more useful things with less tiny parts, and here I've gathered some ideas. Ideas for my own kids, and ideas if you have to buy gifts for someone else's kid. I'd love to hear your suggestions in the comments below.
1. Spalding NBA Street Edition Basketball $17.99
2. Deluxe Standing Easel by Melissa & Doug $67.91
3. NERF N-Strike Rampage Elite Blaster available on eBay $28.89
4. Horse stamp set $10.95
5. KIDS GUERRA Black Denim with Yellow Plaid $35
6. Green Toys Tea Set $24.95
7. Jellycat 'Cordy Roy Rhino' Stuffed Animal $24
8. The Classic Green Bean Bag $39.99
9. Girls Long Belted Frost Free Coat $50
10. Morgan Cycle Retro Scooter, Silver $84.99
11. Kurio Kids Tablet with Android 4.0 available on eBay $149.99
12. Cable-Knit Crew-Neck Sweater $17
13. Nordstrom 'Regan' Fashion Boot $29.96
14. Wooden Stir Xylophone/Drum $32
15. Grey Chevron Wristlet $28
16. Wildkin Big Dots Sleeping Bag $76.99
17. Safari Memory Game $15
18. Plush Stuffed Linus Lion $10.99
……
This edition of Essentials is sponsored by eBay. From the new to the hard to find, when it's on your mind, it's on eBay.