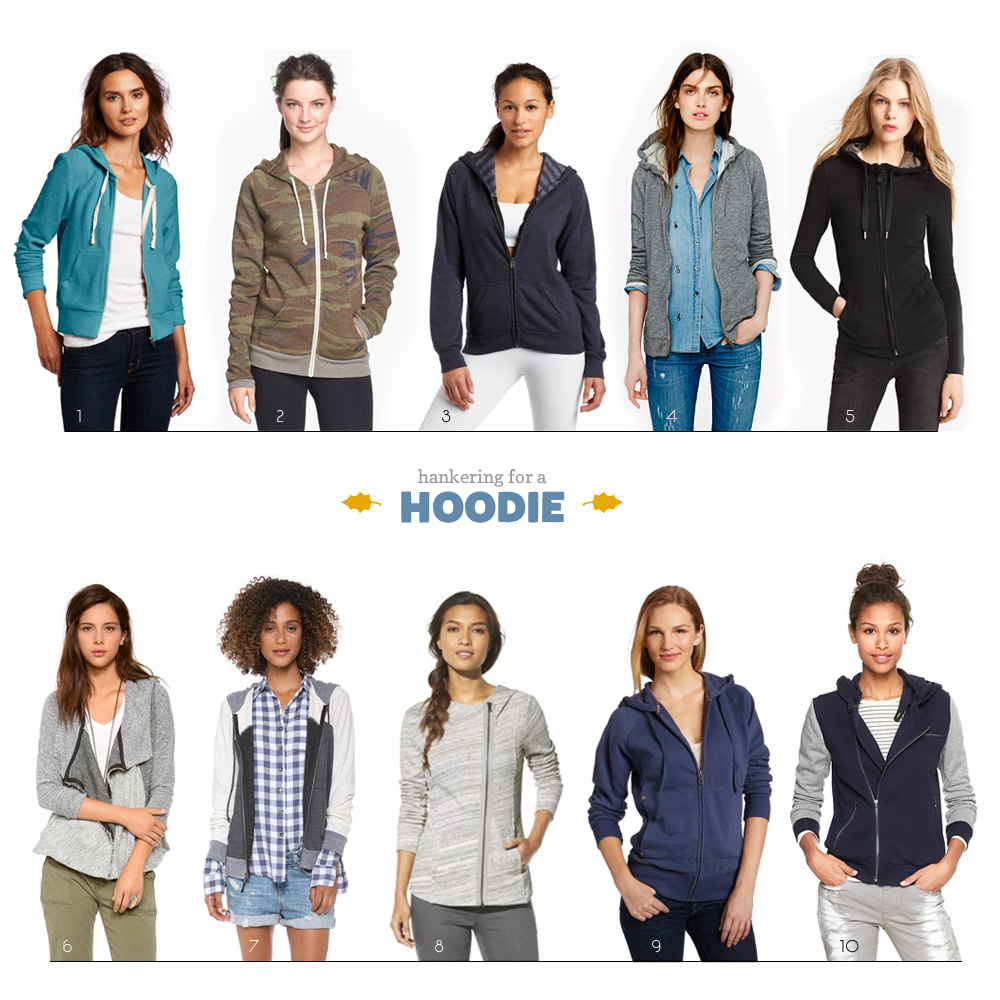 Oh, if only the women who lived in the Victorian age could see us now, all yoga pants and hoodies and quickly looking around to see if anyone is watching so that we can scratch our underboob where the sports bra is just a wee too tight.
I'm sure there are still some women who would not be caught dead wearing a hoodie (might want to stipulate that in your will so that your nephew with the sick sense of humor isn't allowed anywhere near your open casket where he could wrap a football jersey around your head to resemble a snake charmer), but this piece of clothing is one of my favorite things about the changing seasons. Super versatile and comfortable, something I will grab the moment I roll out of bed and wear all day unless my wardrobe calls for those icky things that need to be ironed. One day I will have to teach Leta how to iron and I am going to have to borrow something from a friend that requires ironing.
I love that our yoga/gym/CrossFit/marathon culture has pushed sports gear designers to make things like hoodies less of an afterthought. Now you can find them form-sitting and flattering, some creating curves where you might not have them but want them, some as modern and chic as a designer dress. And, of course, there are still those that are perfect for hiding all those hot dogs your slave children cooked you for dinner.
Long sleeved shirts make me claustrophobic which is why I'm always wearing a hoodie during the winter. Please note: ZIPPED HOODIE. Not any of those that you have to pull on over your head and then off over your head NO. Those are worse than long sleeved shirts and you might as well just bury me now because, oops, I feel like the room is closing in on me and as I try to yank it off my head gets stuck in the collar.
1. Alternative Women's Mariah Hoodie
$33.46
2. 'Adrian' Hoodie $64
3. Jillian Michaels Collection by K-SWISS Women's Slim Hoody
$29.99
4. Heathered fleece zip-up hoodie $79.50
5. Burberry Brit Zip Front Hoodie $295
6. Draped Hoodie Cardigan $119
7. Melange Colorblock Hoodie $128
8. Converse® One Star® Women's Montrose Jacket $34.99
9. Dickies Women's Rib Inset Hoodie
$27
10. Baseball Zip Hoodie $59.95