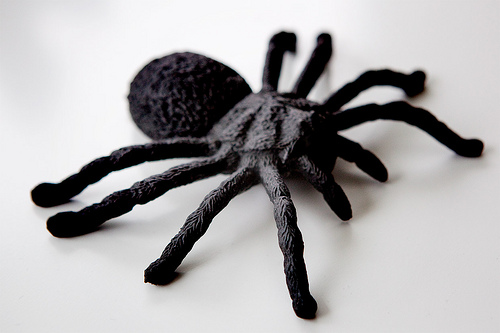 A couple of weeks ago when I was cleaning out my closet I found the black rubber tarantula that I bought several years ago in an attempt to scare Jon. He's been featured here many times (here, here, and most prominently here), so I think at this point he deserves a name. Everyone, meet Randall:
I just thought of something somewhat related, so bear with me for a second: we're all lying there in bed this morning, and just as I sleepily reach over to turn on the light, the toilet in the bathroom directly next to our bedroom makes some weird noises. Leta starts to freak out, is all WHAT IS GOING ON IN THERE, and just as Jon tries to explain the basics of how water can sometimes seep through the mechanism and whatnot, I go, "There's a ghost on the toilet!"
Do not ask me why I would say something so obviously incendiary, so EFFING DUMB, because I guess I was half-awake, half-asleep, and I thought it would be funny? Ha ha! A GHOST! ON THE TOILET! And Jon is groaning while Leta goes, "A WHAT? A WHAAAAT?"
So I snap awake, and because I am so quick on my feet, so very good at yanking my foot out of my mouth because of my years and years of experience, I go, "TOAST! There's some toast! On the toilet!"
Leta wrinkled her nose, tilted her head much like Coco does when you make the slightest noise, and says, "Mom, you are so weird."
I will take weird over nightmares about ghosts on toilets ANY DAY.
Anyway, I tried once again to scare Jon with Randall by putting it underneath his pillow, and of course it didn't work. The dude just doesn't scare easily, and I will forgive him for this boring trait because I promised to love him until I die. He has plenty of other lovely characteristics that make up for this flaw. Give me a second and I'll think of some.
Maybe a couple of seconds.
So I'm climbing into bed three days later and I see that he's placed Randall right underneath my nightstand. Surprisingly, I don't jump three feet into the air or DIE, and the next morning when all four of us are lying there trying to wake up I lose my mind again, reach over and grab the tarantula, and toss it at Jon's head. Why? Why do I do these things? Someone needs to hold an intervention! Heather! Stop giving your five-year-old reasons to wake up screaming!
So Leta FAH-REAKS OUT. She is screaming and panicking and clutching to my arm as firmly as if I have her dangling over a pool of sharks. Jon commences groaning, and then we both start rattling off reasons as to why she should not be scared. It's a fake spider, Leta. It's rubber. It's not real. It has no feelings. You cannot make it sad. And then I shove the whole thing into my mouth which turns out to be the absolute WORST idea ever because then it's OH MY GOD YOU'VE GOT A SPIDER IN YOUR MOUTH!
And now that I've had a couple seconds to think about it, Jon is really patient. There. There it is. That's his lovely characteristic. Singular.
Because the following morning he spent well over an hour convincing Leta to touch the fake tarantula. It took that long, and he never raised his voice or got agitated, not once, and suddenly Leta walks into the living room HOLDING RANDALL IN HER HANDS. And I'm all LETA! And she goes MOM! LOOK! I AM COURAGEOUS!
That's the word she used. Courageous. Leta, I forgive you for all those years we had to take you to physical therapy only to find out that the diagnosis was STUBBORN.
So a few days go by, and I'm preparing Leta for a bath when Jon hands her a few pieces of black licorice. Like, why did he choose that time? Right then as she's about to take a bath? MINUS TEN POINTS FOR ABSENTMINDEDNESS, JON.
And I don't know if I've mentioned this enough here, but I hate black licorice. LOATHE IT. It is The Worst Tasting Taste in all of Tasteland. It's like, we're headed for a bath and he picks up a ratty tissue that a hobo has used to wipe her vagina, hands it to Leta, and says ENJOY!
Uggggghhhh.
The smell of it almost knocks me over, and I'm trying not to gag as I pour shampoo onto her hair, and she's just chomping away on all that awfulness. Suddenly she stops mid-chew, looks up at me with half-digested black death wedged between her teeth and says, "If I'm courageous enough to touch the spider, why can't you be courageous enough to try black licorice?"
OH YES SHE DID.
So I called Jon into the bathroom to demonstrate his lovely characteristic and patiently explain to her the VERY OBVIOUS DIFFERENCE. I don't think I need to elaborate on the difference, only to say that we're now setting aside money for law school.