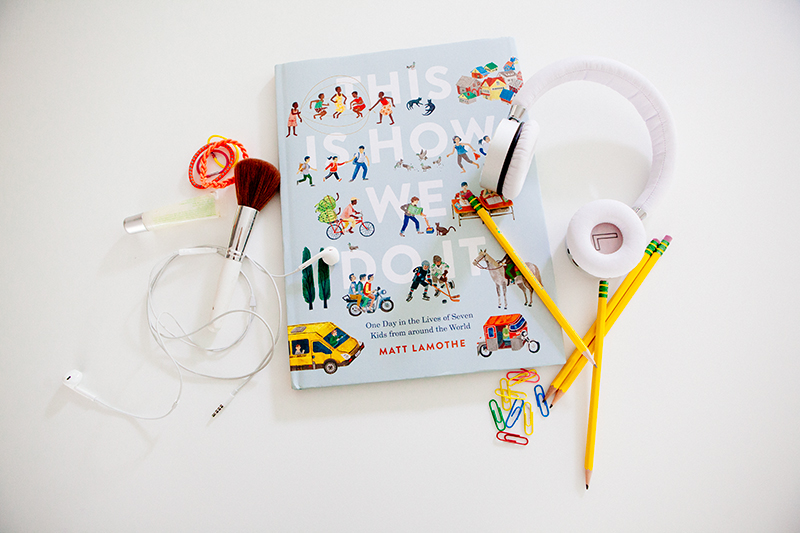 Remember when I told you that Marlo only reads fiction—or at least at night before she goes to sleep she's finding out all sorts of things about Nancy and Zuzu and Emma in her books, all made-up characters who never want to frame each other for murder and never end up stranded in a submarine at the bottom of the ocean in hostile waters. Yawn.
She's about to finish up a book about a talking fish? Or is it a frog? A turtle? UGH. STOP ASKING ME. I haven't paid that much attention to it. Up next, though, I'm going to have her read This Is How We Do it, a book by Matt Lamothe and Jenny Volvoski. Full disclosure: Jenny and Matt are part of a collective that designed my professional website, and I approached them to head up that project in 2014-2015 because I love the style of their work, particularly their illustrative work. And this book? NON-to the FIC-to the-SHUN. Why yes, Marlo and I would love a copy of it, thank you very much.
The story follows a day in the life of seven real kids from around the world: Iran, Russia, Japan, India, Uganda, Peru, and Italy. The book begins at sunrise, and shows where the kids live, what they eat for breakfast, how they go to school, and ends with where they sleep.
Jenny and Matt are hopeful that this book will not only teach kids about diversity but will also foster compassion and understanding of other cultures.
In a global political environment that's often divisive, we hope this book can show children that we have more in common than we think.
Here's the amazing animated trailer for the book:
And I guess if we want Oleg in Russia or Kei in Japan or Kian in Iran to know how Marlo does it, let's give them a rundown, shall we!
United States! Land of the the free! Unless you've been sexually assaulted, and then you're going to die from a preexisting condition! Home to the worst maternal mortality rate in the developed world! Here you can't get a refill on your Prozac NUH-UH, but instead you can buy a gun at Walmart!
THIS IS HER
Her name is Marlo and sometimes we call her "Mar" or "Mar Mar", sometimes "Leta" or "Coco" or "WHICHEVER ONE YOU ARE" depending on how much sleep we got last night.
THIS IS WHERE SHE LIVES
She lives in a house made of bricks with a few patches of caulk here and there that has been used to plug the holes where her dog's barking has cracked the foundation, in Salt Lake City, Utah, Mormon Capital of the World. Actually, that may be Mesa, Arizona. I haven't seen recent stats.
THIS IS WHO SHE LIVES WITH
She lives with her mother, That Deranged Woman, her sister, Leta, and her dog, Coco. She would like to adopt a cat but her mother is not fucking having it.
THIS IS WHAT SHE WEARS TO SCHOOL
She wears whatever pair of pants/shorts/t-shirt/sweatshirt/I don't even know, whatever is clean in her closet and drawers, and she makes sure that none of it ever matches. Oh, and her mother makes her wear socks with her shoes even though she hates it because otherwise her feet grow mold and she's forced to sleep in the backyard underneath a tarp.
THIS IS WHAT SHE EATS FOR BREAKFAST
For breakfast she has a bowl of Frosted Mini Wheats THIS IS NOT A SPONSORED POST HASHTAG NOT AN AD.
THIS IS HOW SHE GOES TO SCHOOL
Her mother drives her to school every single fucking morning and walks her into the building, all the way to her locker and to the door of her room. Every morning. And when this phase of her life is over her mother will mourn with the sound of a mating hyena all those special hand-holding moments that end in a hug and kiss and HOLY SHIT, are you crying Heather? Seriously? Pull it together and get through this post already because Oleg and Kei and Kian have fallen asleep.
THIS IS HER TEACHER
Oh, hell no. Last time I talked about Marlo and school—a post wherein I did not mention any names or identifying characteristics or say anything remotely salacious—I got pulled into the principal's office, and her teacher handed me my ass. Lesson learned because I am the valedictorian.
THIS IS HOW SHE LEARNS
See paragraph above. Put that on repeat.
THIS IS HOW SHE SPELLS HER NAME
M-A-R-L-HULK
THIS IS WHAT SHE EATS FOR LUNCH
She doesn't. Her mother packs her an assortment of crazy shit that at one point she ate, but suddenly she's decided it's all garbage. And when she gets home from school and says she's hungry, her mother sends her to the backyard to make her starve underneath a tarp.
THIS IS HOW SHE PLAYS
THIS IS HOW SHE HELPS
She doesn't.
THIS IS HOW SHE EATS DINNER
THIS IS WHAT SHE DOES IN THE EVENING
THIS IS WHERE SHE SLEEPS
We already covered this. In the backyard underneath a tarp.
MEET HER FAMILY