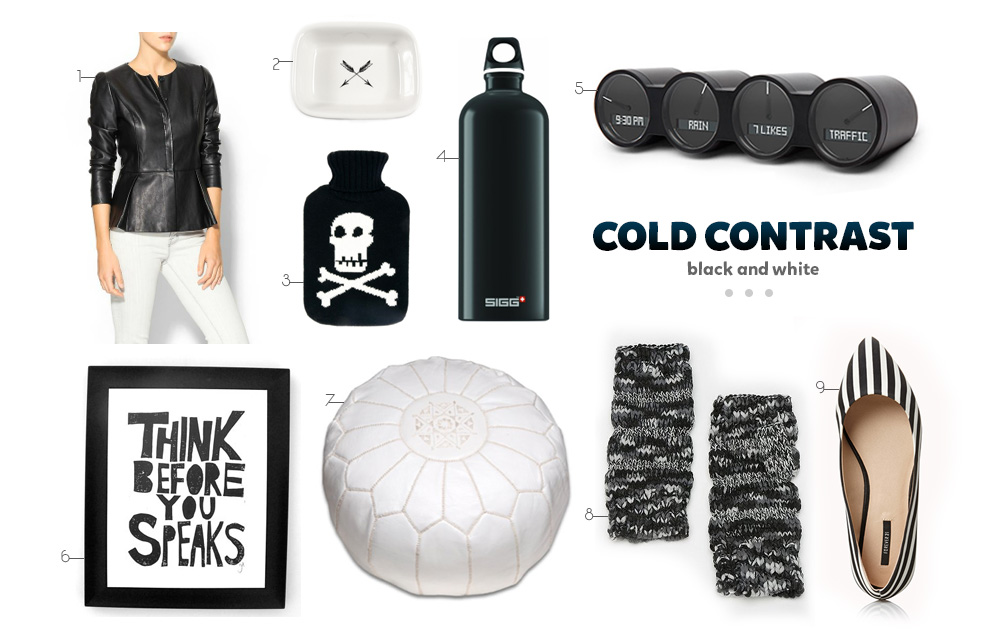 The afternoon temperature here yesterday climbed to 43 degrees. Despite this warm front I've been bundled up in layers, coats, blankets and even a heating pad while at my desk. This may or may not have anything to do with a juice cleanse that I may or may not be doing that may or may not require I consume five large bottles of freezing cold juice a day. My teeth were actually chattering yesterday morning. It's no secret that I hate being cold which may or may not make me hate this side effect more than the fatigue.
I may or may not be feeling very black and white about it all:
I have never had so much energy!
I HAVE NEVER BEEN SO TIRED IN MY LIFE.
My thoughts are so clear!
KIDSSS WHY TALKK LOUD STOP MOUTH NOISE.
At least there is design inspiration in the experience. Or so I've heard.
1. Tinley Road Vegan Leather Peplum Jacket $64.97
2. Great Plains soap dish $20
3. Skull hot water bottle $18.52
4. Sigg Traveller Water Bottle
$15.99
5. Nimbus Wink-enabled personal assistant $129.99
6. "Think Before You Speaks" linocut typography poster 8×10 $22
7. White Moroccan Leather Pouf Ottoman, Unstuffed
$118
8. BDG Marled Fingerless Glove $24
9. City-chic striped flats $16.80